Camsafe X9 Anti-Theft Camera Sling Pack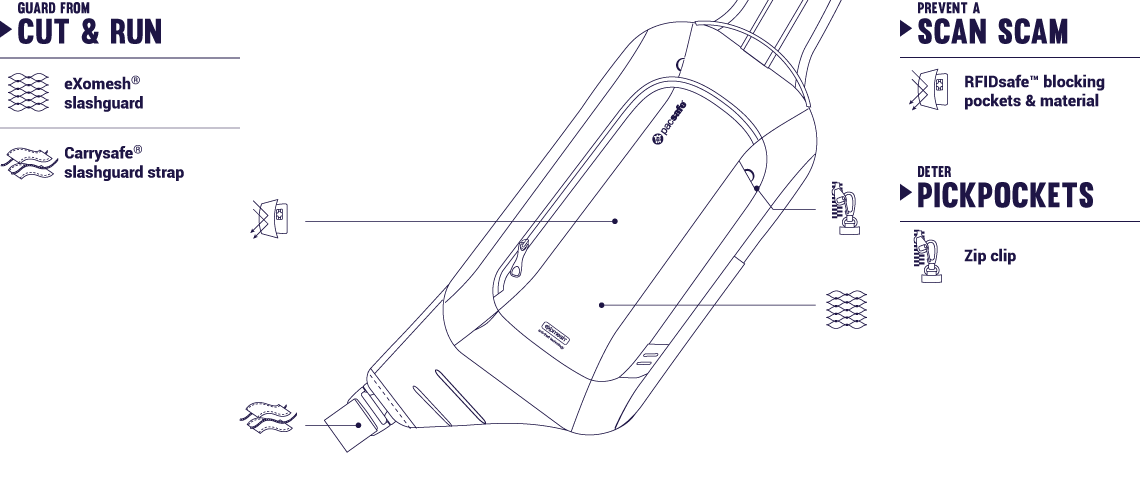 FEATURES
Fits an 11" tablet.
Memory card pocket.
Internal pockets to keep your gear organized.
Internal attachment point for wallets and keys.
Pen loop.
Water bottle pocket.
---
SPECS
MATERIALS
210D Nylon diamond ripstop (main material) 200D Polyester (lining)
WEIGHT
1 lb 12 oz / 0.8 kg
DIMENSIONS
(H x W x D):15.8 x 9.8 x 5.9 in / 40 x 25 x 15 cm
VOLUME
8.00 L / 488 in3
STRAP LENGTH
Crossbody Circumference (Max - Min) 155-100 cm / 61.0-39.4 in
PATENTED IN
Patented in USA (9161596, 9629423, 10251453), Belgium, France, Germany, Netherlands, Switzerland, UK (EP2659800, EP2710915), Luxemburg, Poland (EP2659800), China (ZL 201310019724.6, ZL 201310404268.7). Additional patents pending.
100%
of reviewers would recommend this product to a friend
Nice new Pacsafe camera bag
This is my second Pacsafe bag, but my first camera bag with the safety features. I've used these bags for five years now and I'm totally satisfied with the technology. My EDC bag is Pacsafe and now I'm adding this one to my lightweight camera bag. It's a great size, but hardcore safe. Great products.
I recommend this product
Camsafe X9 Anti Theft Camera Sling Pack
Not yet used, but per actual checking it is a quality product and i can used for a longer especially when i visit again Hongkong & other foreign countries in the near future.
Reviewed by Steven G., from Switzerland
Verified Buyer
I recommend this product
Camsafe X9 Sling Pack
Overall very, very practical ! and light !
Intelligent set-up of various compartments…simply clever !
One example…you can really fit an iPad Pro 11" in there.
I would have enjoyed the possibility switching the sling once in a while but I definitely can live with it as it is. Many Thanks !
Reviewed by Shcarta, from Australia
Verified Buyer
I recommend this product
Excellent anti theft camera bag
Good size but not too big - still has ample room for camera, lens and other small necessities. More pictures of the inside with inside dimensions being shown on the website would be encouraging for prospective buyers