Metrosafe LS250 Anti-Theft Shoulder Bag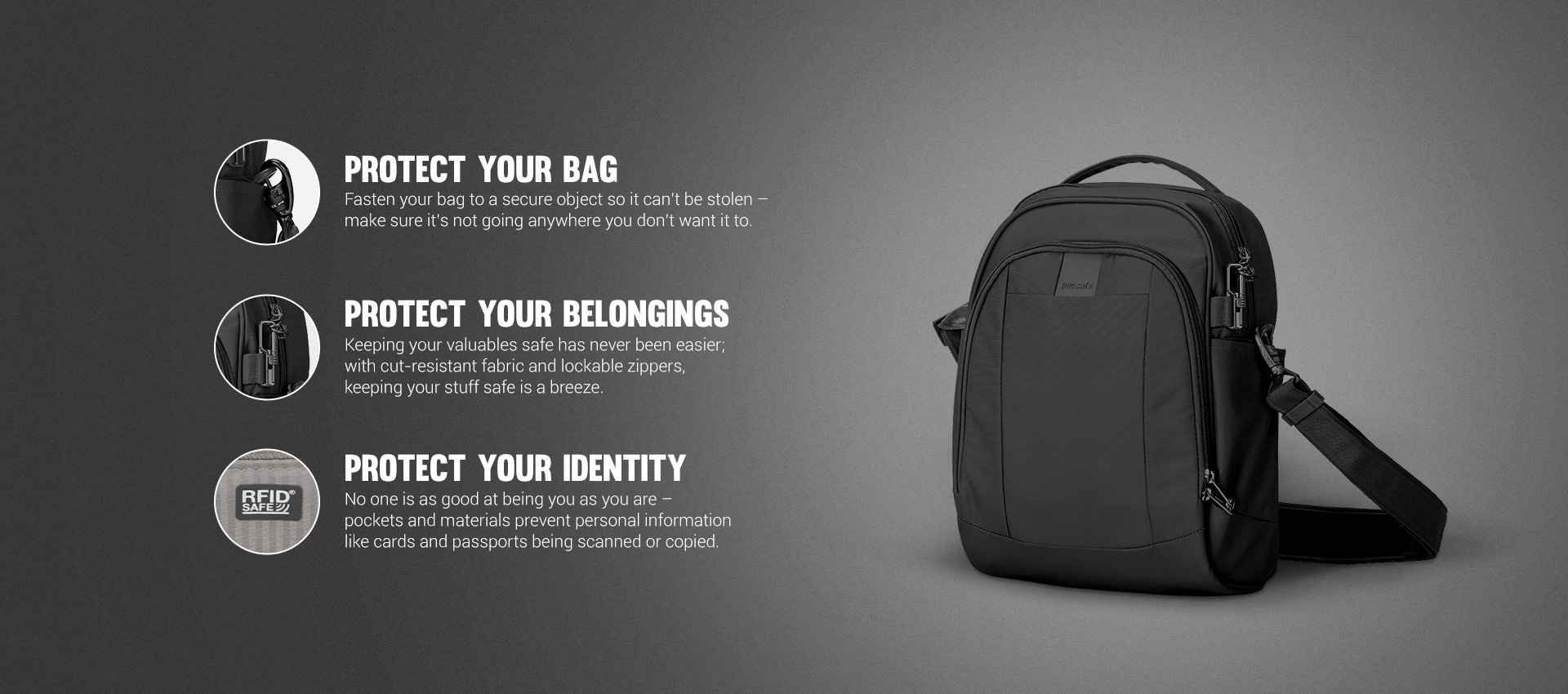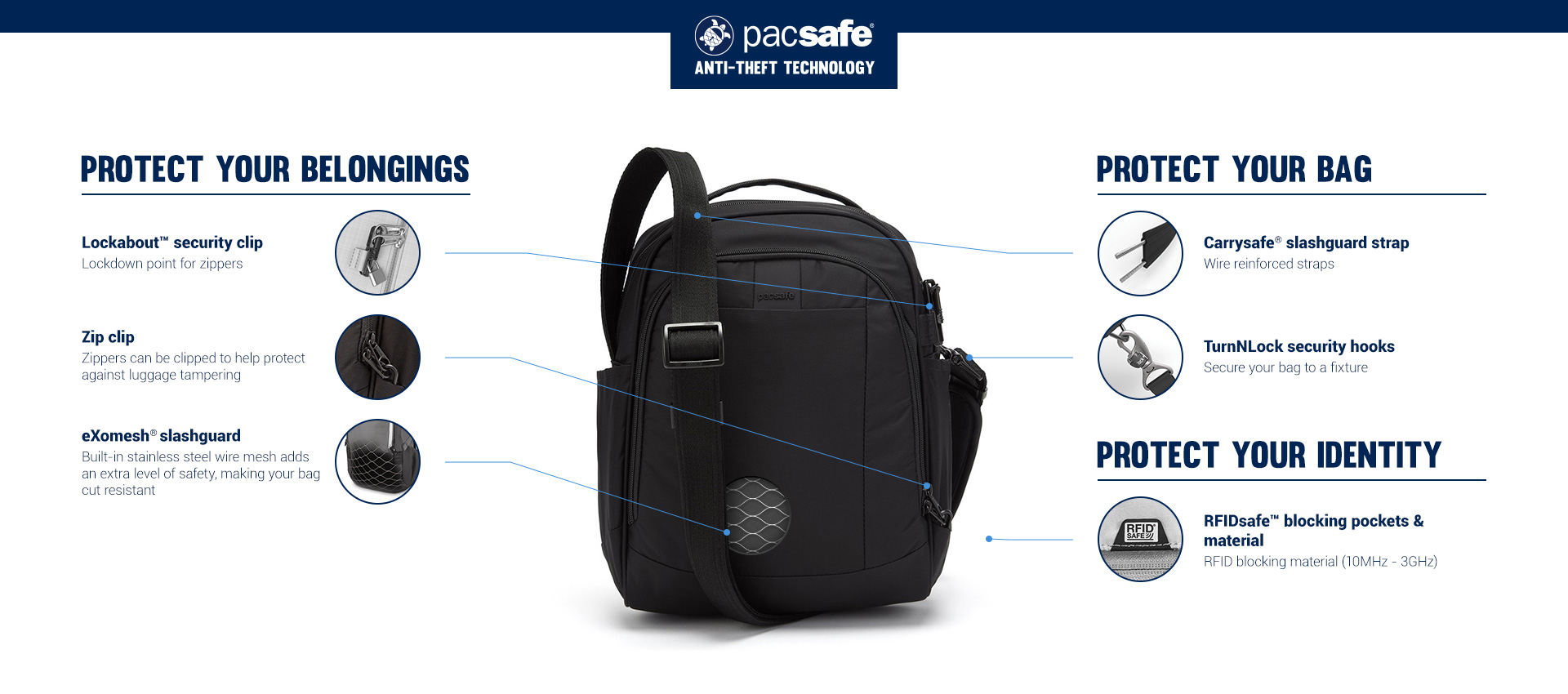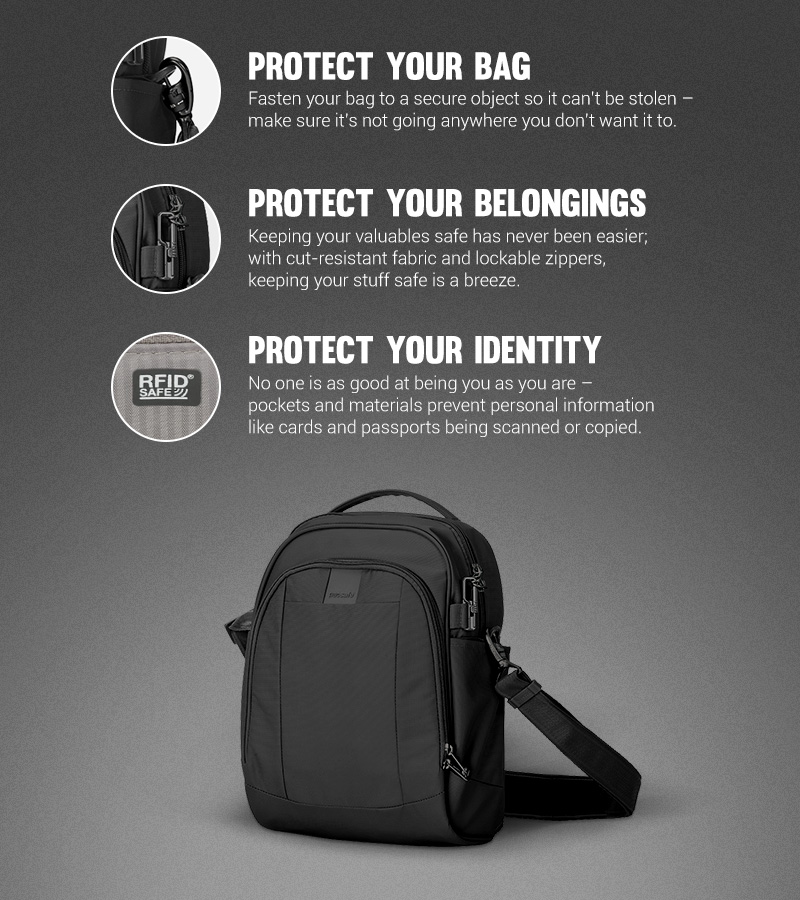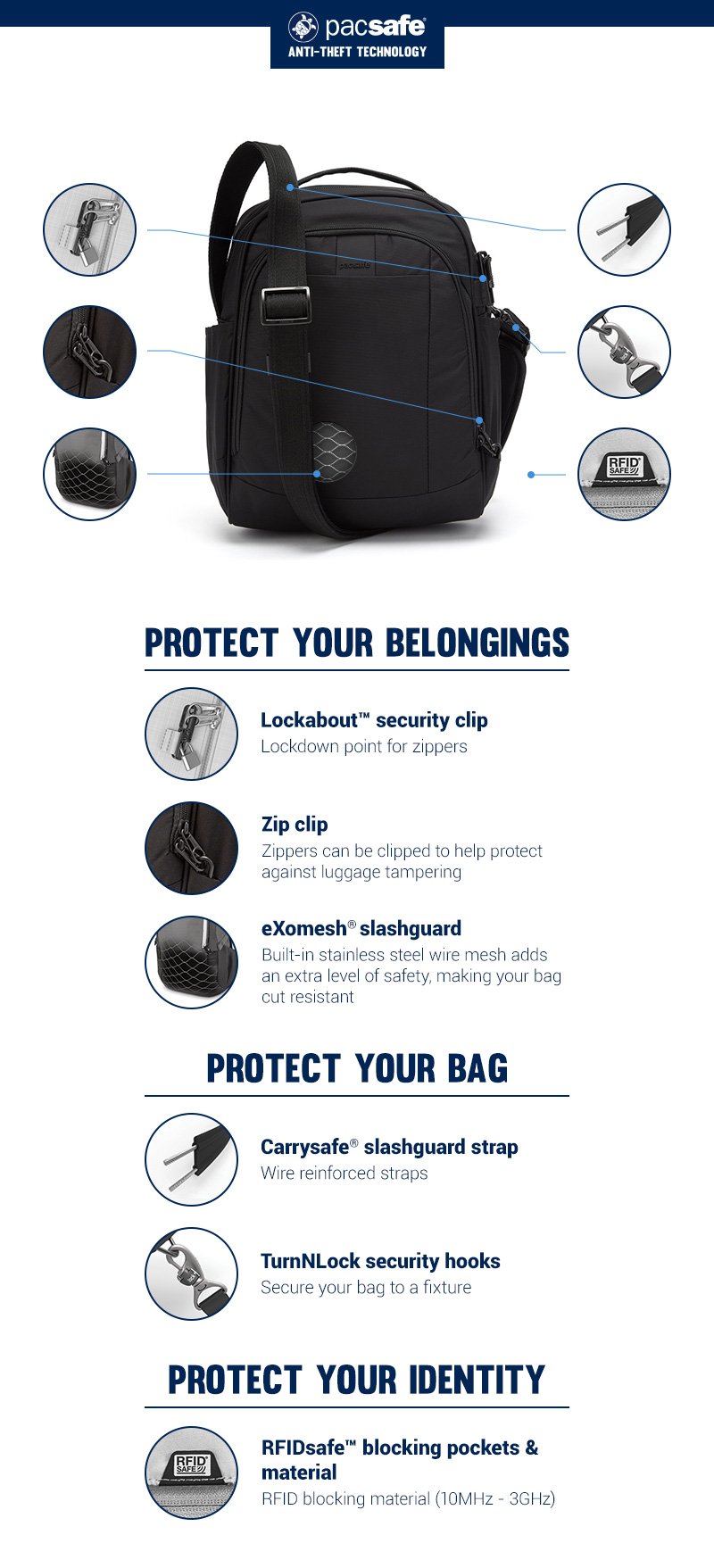 FEATURES
Lockable zips and cut-resistant materials protect your belongings
Cut-resistant anchor strap secures around a fixed object to protect your bag
RFID blocking pocket protects your credit cards and passport against unwanted scans
Fits a 12-laptop in a padded sleeve for extra protection
Internal pockets help keep your gear organized
Internal attachment point for wallets and keys
Typically accepted in museums when backpacks need to be checked in
Pocket for a reusable water bottle
---
SPECS
MATERIALS
210D Nylon full dull hitra (main material) 75D Polyester herringbone dobby(lining)
WEIGHT
1 lb 6 oz / 0.61 kg
DIMENSIONS
(H x W x D):13.8 x 10.2 x 4.3 in / 35 x 26 x 11 cm
VOLUME
12.00 L / 732 in3
STRAP LENGTH
Drop Height (Max - Min) 75-33 cm / 29.5-13.0 in
PATENTED IN
Patented in USA (8365365, 9161596, 9408450), Belgium, France, Germany, Luxemburg, Netherlands, Poland, Switzerland, UK (EP2659800 & EP2653056), China (ZL 201310019724.6, ZL 201310132637.1 & ZL 201530235124.3).
100%
of reviewers would recommend this product to a friend
I recommend this product
The item is soo very good and I'm very happy
PACSAFE LS250
The item is very nice.. It looks exaxtly to what i expect.
Reviewed by Merjay Merman P.
Verified Reviewer
I recommend this product
Fits your macbook 13" M1 chip
I was amazed that this bag, which i purchased in an offical Pacsafe store in Philippines was a bit pricy that this website price, but yeah, the cost of importation and tax will add it up. However, i didnt regret buying one..WHY? Because aside that it fits my 11" ipad pro with a magic keyboard on it, it surprisingly FITS my M1 macbook air which i didnt expect at all. Well, i paid around 116$ for this product, without a sale, regular price because i need it as I always bring sling bags to work where i put my drug samples as a drug rep. This black color is okey, it looks formal and simple. But please, make more colors soon. I also bought the smaller version of this, the ls 200 which is made of recycled nylon. And its also very nice.i highly recommend this product to those tech savvy, and to those who are working that needs tech gadgets with them,..
Fit my 13" notebook
Great back. My Dynabook X30L-J fit in the sleeve nicely.