It's time for a fresh start with Aigle's new collection of must-have, practical, recycled and ultra-hard-wearing bags.
Aigle and Pacsafe have unveiled a line of bags made from recycled plastic bottles. The result? A collection that combines highly innovative, water repellent and indestructible material with thoughtful detailing and recycled material.
Created with the demands of urban travel and sustainability in mind, the Aigle and Pacsafe collaboration features an ultra-practical backpack that's perfect for carrying your laptop, a light weight bum bag, a water repellent weekender and an on-trend tote. The lines are minimalist and the styles clean-cut, and every design detail has been carefully considered. Take the material, for example.
Responsible and recycled, it's made from plastic bottles, it's made with recycled plastic bottles while the anti-theft designs and water repellent finishes are perfect for every scenario, no matter what the weather.
Designing pieces that work for everyone, for every weather and for ever is in Aigle's DNA, and this collection is no exception. The material has been designed to be tear-proof and hard-wearing, and the luggage is guaranteed for five years.
The perfect accessories for weekdays or weekends, road trips and adventures around the globe or closer to home. 
Check out the whole collection on Aigle.com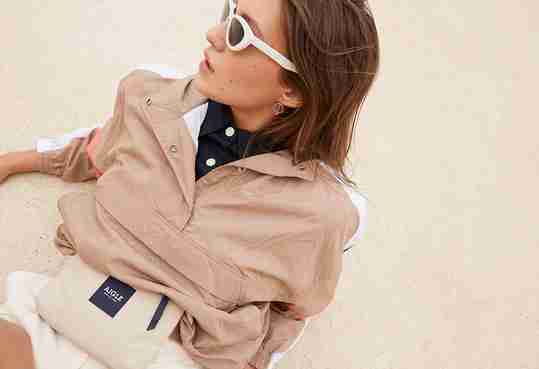 AIGLE
Since 1853, Aigle has cultivated a unique sense of craftsmanship, represented by their iconic boots made in France from natural rubber. Their clothing and accessories are designed for everyday life. They are durable, fashionable, with technical functionnalities that protect you whatever the weather conditions are. Aigle is committed to carefully managing its environmental impact by championing French craftsmanship, creating pieces that are made to last and constantly increasing the amount of recycled materials in our collections. As such, in 2021, Aigle officially became a purpose-driven company, including this raison d'être in its articles of association as a written confirmation of its environmental commitments: "Allow everyone to live their life to the full, and leave nothing behind but their footprints ". A subsidiary of the MF Brands Group, Aigle is present in 24 countries through 374 points of sale.